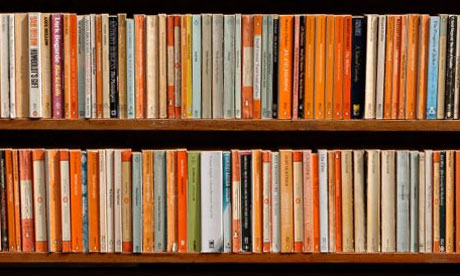 A spookily accurate representation of my bookshelves
Image source
I saw this over on
Jennie's
blog and knew I had to take part straight away. I am a huge bibliophile and I love talking about books almost as much as I enjoy reading them!
Do you remember how you developed a love for reading?
Not really, to be honest; I've just always seemed to love reading. My parents read to me as a child and my dad swears that I could just always read and I didn't have to be taught or anything. He says it was like Atticus and Scout in
To Kill a Mockingbird
; he would put me on his knee and point to words in the book and I would just be able to read them. I don't know how this worked but it's a nice story nonetheless!
Where do you usually read?
I mostly read in bed before going to sleep or sometimes in the morning on weekends. Travelling to visit Pete involves a flight, a bus journey and a train journey so I always get a lot of reading done then as well.
Do you prefer to read one book at a time or several books at once?
Definitely one book at a time. I often get quite heavily invested in what I'm reading and I wouldn't be able to do that if I was flitting between books.
What is your favourite genre?
I like a lot of different genres. I mostly read general fiction that catches my eye and like fiction with an 'edge' if that makes sense; where things are a little different from everyday. So I guess contemporary literary fiction is the way I would define it although basically anything and everything that looks interesting!
Is there a genre you will not read?
I'm personally not really into 'chick lit' (although I have issues with that phrase; I think it demeans the women who are producing it and those who enjoy reading it, but that's a rant for another day!) and I don't read much non-fiction or historical fiction either. I'm also a bit of a wimp when it comes to horror but I have read all of the John Ajvide Lindqvist books that are available in English because I love his writing even though it freaks me out.
Do you have a favourite book?
Yes, but this is a difficult question! I think my all-time favourite is
Middlesex
by Jeffrey Eugenides, a novel about a young Greek-American girl growing up in the 1960s, her family and their history. I love it so much; it's so interesting and well-written with fascinating bits of Greek history and culture running through it as well as a more recent setting. I often think about reading it again and again!
Some other favourites which I would recoomend include
Girlfriend in a Coma
and
Hey! Nostradamus
, which are both by Douglas Coupland,
The Book Thief
by Marcus Zusak (have tissues at hand when you're reading this! )
Johnny Got His Gun
by Dalton Trumbo,
One Day
by David Nicholls (my heart!)
A Prayer for Owen Meany
by John Irving and
The Miracle Life of Edgar Mint
by Brady Udall, which has an excellent twist near the end.
What is your least favourite book?
The Mayor of Casterbridge
by Thomas Hardy. I read it for my AS English Literature coursework and hated every word. My English teacher was the best teacher in the world and he was so passionate about it, which did help, but it really was not for me.
I also really did not enjoy
Wuthering Heights.
Everyone goes on and on about how it's a classic and soooooo brilliant but I hated every character and really didn't like it. It's relatively short but took me about 2 months to read because I couldn't bring myself to do it. ALSO everyone talks about Heathcliff as some wild romantic hero but he is the absolute worst and actually takes pride in hurting women so I don't understand the attraction there at all! (Sorry if it's your favourite or something, I know a lot of people love it!)
What is the longest book you have ever read?
I've read a few big tomes in my time. I have read three John Irving novels;
The Cider House Rules, A Prayer for Owen Meany
and
The World According to Garp;
each of them weigh in at over 500 pages each!
Middlesex
is around 550 pages. I like books of all different lengths though, especially if I'm travelling so I can take a few shorter ones.
What was the last book you bought?
I bought two at the Oxfam where I volunteer;
Fahreheit 451
by Ray Bradbury and
Slaughterhouse 5
by Kurt Vonnegut.
Do you prefer library books or buying books?
The three full shelves of unread books are testament to the fact that I love to buy books! I can't get enough of them and I love searching them out in bookshops everywhere. I especially like browsing in charity shops at the minute; you can get a literary fix for a fraction of the price and do a bit of good while you're at it. Once I move out of my parents' home and space is at a premium I'll probably have to reign it in and resort to using libraries more but that's OK with me; in the meantime I'll continue to beef up my book collection, even though I definitely shouldn't.
What are you currently reading?
I'm not reading anything right now. I finished
The World According to Garp
at the weekend and I often get a kind of 'book hangover' when I've read something I've really enjoyed which stops me moving on straight away. I'll definitely start a new book in the next few days though; the only hard part is making a decision.
So, there you have it! Please let me know if you've done something similar or leave me any book-related tips and advice in the comments; I'm always on the lookout for more reading material. You can also
be my friend on Goodreads
if you'd like!